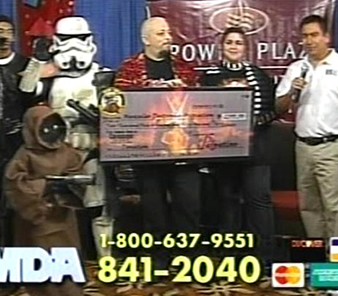 I've been extremely blessed over the last few years to be part of the Jedi OKC and the Central Oklahoma Ghostbusters. As a member of these two groups, I've been able to brighten the days of hundreds of sick children as well as raising money for both the Spencer Children's Hospital and the Muscular Dystrophy Association. Here I am with a few members of Jedi OKC at the 2006 MDA telethon presenting the MDA with a check for $2,500.00. We took it up a notch in 2007 and raised nearly $4,000.00 for the MDA. This year we're shooting for $5,000.00!




My Friendly URL to pass on is:
http://www.dreamcmo.com/patrick

Hometown: Oklahoma City, Oklahoma

Occupation: Self employed photographer

Five words that best describe you:
Creative, Imaginative, Spontaneous, Entertaining, Leader

How do you create Magic for others:
I am a member of several groups (primarily Star Wars and Ghostbusters). We hold fundraisers, and organize events to raise money for the MDA and a local children's hospital. We have raised and donated thousands of dollars over the last few years to these groups. We also make regular appearances at children's hospitals. As much fun as it is to dress up as one of my favorite movie characters, NOTHING comes close to the look on a child's face when they get to see THEIR favorite movie characters.

Favorite Disney Movie:
Sleeping Beauty

Favorite Disney Song:
Beauty and the Beast

Check back often to see photos and my thoughts on
important magical issues!
Check out my press release:
http://www.dreamcmo.com/press/patrick


1. What do you stand for as CMO: What is your platform? My platform as CMO is simple...make sure everyone is smiling! I've spent my life making sure to leave a smile everywhere I go, and over the years I've done whatever it takes to get that smile. My term as CMO will be no different.

2. How are you preparing for the next phase of the competition (the in-park); what do think you will have to do? I'm ready for whatever Disney and CareerBuilder decide to throw at me. I'd love the opportunity to show my knowledge of the parks by answering some trivia questions or running around the park on a scavenger hunt. Of course NOTHING would make me happier than if we were given the opportunity to make a few dreams come true for park guests...after all, that is what being the CMO is all about!

3. If you become CMO, what is the first attraction that you would visit at Walt Disney World® Resort? Or at the Disneyland® Resort? As CMO, on my first visit to Walt Disney World, I'd head right for the Haunted Mansion. On my first visit to Disneyland, I'd want to take a ride on the Finding Nemo Submarine Voyage...followed of course by a ride on the Haunted Mansion...can you tell that I'm a fan of the 999 happy haunts?