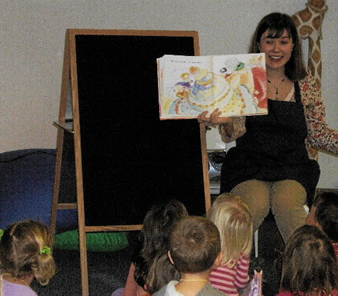 I make magic in my community by investing my time and talents in its most precious resource – its children! Introducing a story, a song, or even a puppet to a child unlocks their imagination so that someday, hopefully, they will become adults who believe in dreams, too.




My Friendly URL to pass on is:
http://www.dreamcmo.com/jennifer

Hometown: Westerville, Ohio

Occupation: Children's Librarian and Stay at home mom

Five words that best describe you:
Creative, Passionate, Nurturing, Outgoing, Considerate

How do you create Magic for others:
I've found the best way to bring magic to others' lives is by making them feel like their presence has made my day! A warm smile, a cheerful greeting, and genuine interest in how they are doing creates a glow about them that is truly magical.

Favorite Disney Movie:
Monsters Inc.

Favorite Disney Song:
Splash Mountain Medley from the Official Album of the Walt Disney World Resort

Check back often to see photos and my thoughts on
important magical issues!
Check out my press release:
http://www.dreamcmo.com/press/jennifer


1. What do you stand for as CMO? What is your platform? If elected as CMO, I promise to embody the unmatched customer service and enthusiasm that is part of the Disney philosophy. I promise to make a magical memory for every guest I encounter, going beyond their expectations and turning happy moments into happily-ever-afters. My favorite Walt Disney quote is, "My business is making people, especially children, happy," and I promise to live by those words.

2. How are you preparing for the next phase of the competition? What do you think you will have to do? I'm studying my Birnbaum's vacation guide, Dave Smith's Disney A to Z: The Official Encyclopedia, and Disney-related websites. I've also been watching the 2008 Disney Vacation Planning DVD. If I'm one of the "Top Three," I hope the in-park competition focuses on interactions with Disney guests. The best thing about campaigning has been meeting people and listening to their Disney memories. I would love for that to continue if I'm given the opportunity!

3. If you become CMO, what is the first attraction that you would visit at Walt Disney World® Resort? Or at the Disneyland® Resort? My family always visits "It's a Small World" first, and it's definitely a tradition I plan to uphold. I've never been to Disneyland, and while I'm anxious to visit the attractions that aren't at the Florida park, I plan on making a beeline for "Mr. Toad's Wild Ride." I remember when the ride existed at Walt Disney World, and I loved being scared silly by the train barreling down the dark tunnel!