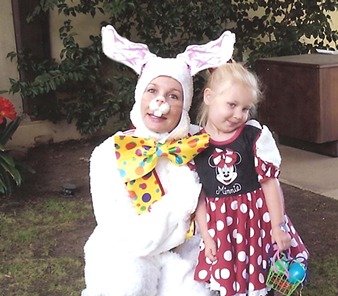 The Magic is in the memories. I played the Easter Bunny last year. Shhhh. The children still don't know it's me. There were 80 kids in all, ages three to four. The children came into the courtyard to begin their egg hunt, and the Easter Bunny was still their hiding eggs! I wish you could have heard their squeals of delight! I could feel their pride as some took me by the paw and showed me where they found eggs. Others were a little star struck and in awe. It makes my heart smile to know that I had a hand, or should I say an ear, in making happy memories of that egg hunt for so many little ones!




My Friendly URL to pass on is:
http://www.dreamcmo.com/amy

Hometown: Pacific Palisades, California

Occupation: Homemaker and Full-time Mother

Five words that best describe you:
Enthusiastic, Reliable, Friendly, Charismatic, Trustworthy

How do you create Magic for others:
I play all the other parts in my daughter's role-playing games around the house (from Tinkerbell to the Tweeting Bird in Snow White). We get the kids at the park in the action too (you can never have too many Cinderellas or Peter Pans). I lead caroling preschoolers to Senior Assisted Living Centers. I like to host birthday parties. I threw a birthday party for the new kid on the block and invited kids his age because he didn't know anybody yet.

Favorite Disney Movie:
Cinderella

Favorite Disney Song:
When You Wish Upon a Star

Check back often to see photos and my thoughts on
important magical issues!
Check out my press release:
http://www.dreamcmo.com/press/amy


1. What do you stand for as CMO? What is your platform? Making dreams come true is about more than handing out prizes. It's about building positive memories that people share long after the prize is gone. It is also about inspiring those who witness the Magic to reach for their dreams and aspire to make the dreams of others come true. I stand for using the position of CMO as a way to inspire others by spreading Disney Magic through unique Guest experiences that will be treasured and shared for years to come.

2. How are you preparing for the next phase of the competition? What do you think you will have to do? I have been studying the maps of all of the Disney Parks in Florida and California. I've come up with ideas on how to entertain crowds who are waiting for events to begin in the Parks, and practicing them on preschoolers. I've been talking to the press, an invaluable learning experience! I have been out spreading the Magic in full Fairy Godmother regalia, and in my regular street clothes, which has confirmed in me my comfort with public speaking, connecting with others and making new friends!

3. If you become CMO, what is the first attraction that you would visit at Walt Disney World® Resort? Or at the Disneyland® Resort? I would first visit the Disney Railroad. It would be nice to spend my first moments as CMO just circling the Park, appreciating such a Magical place. And since the trains are really where the Parks began, with Walt's vision for a Mickey Train Park in Burbank across from his studio, I think it would be a nice place to send up a silent thank you to him for sharing his dream with all of us and giving us a Magical place to visit where dreams come true.